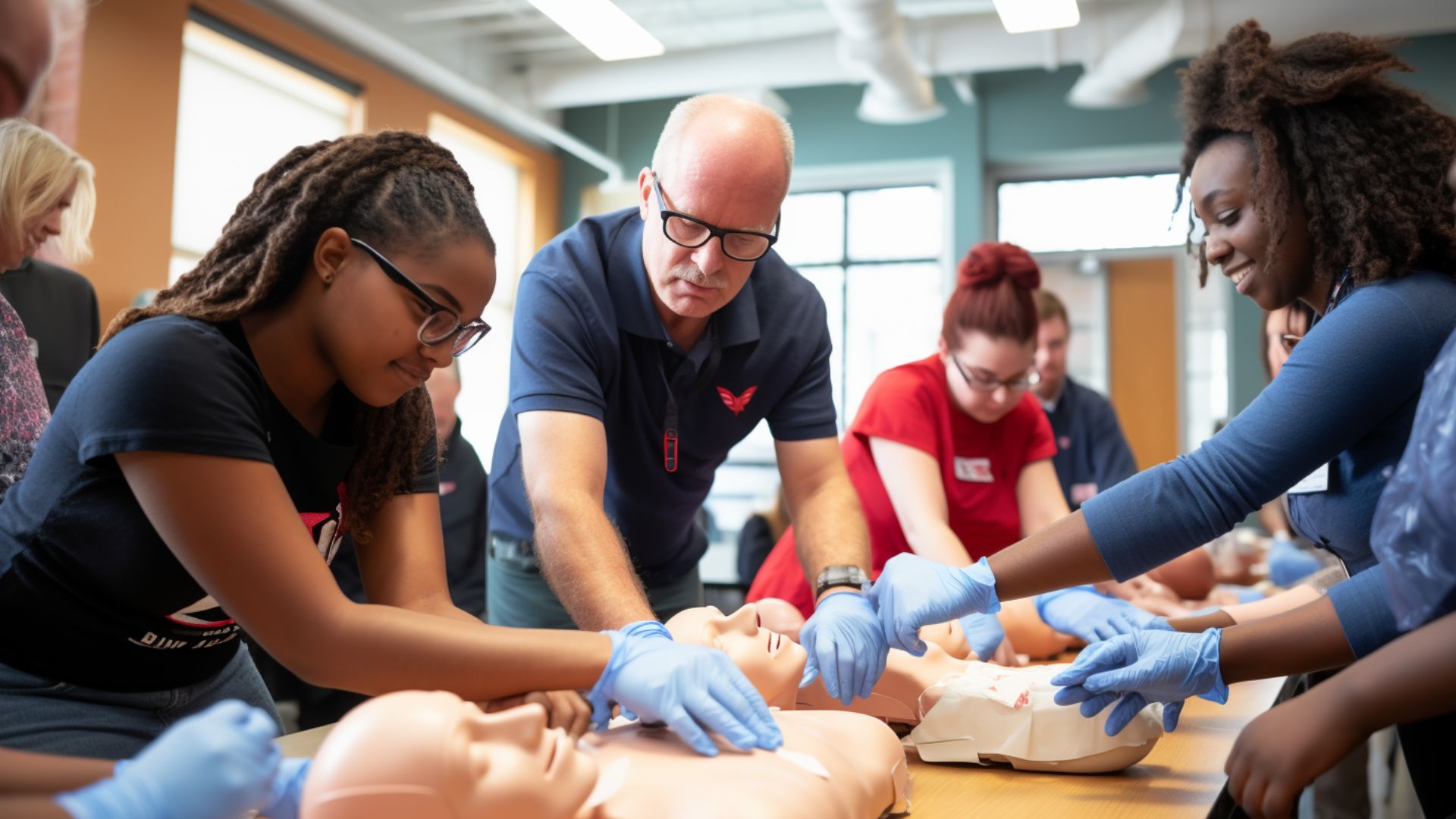 Given the staggering statistic that more than 356,000 people suffer an out-of-hospital cardiac arrest in the U.S. each year, one city took precaution a step further and commenced Project Heart ReStart. The greater Cincinnati area is one of the few to take such great precautionary measures to halt the rapid occurrence of SCA among Americans.
CPR can double or triple a victim's survival odds when administered within the first couple of minutes after a sudden cardiac arrest. How are the people of Cincinnati dealing with the increasing number of sudden cardiac arrest cases in the area? Stay with us as we delve deeper into details about the importance of CPR administration.
Restarting Cincinnati's Heart Health, Beat by Beat
Project Heart ReStart was initiated in 2006, by distributing 17 automated external defibrillators (AEDs) to non-profit organizations in the greater Cincinnati area. At present, the program operates as a community outreach initiative under the health network of The Christ Hospital.
Its primary objective is to mitigate the mortality rate associated with sudden cardiac arrest within the greater Cincinnati region. In achieving this goal, the program focuses on multiple aspects, including the provision of CPR and AED training, facilitating wider accessibility to publicly-placed AEDs, and fostering awareness regarding the sudden cardiac arrest.
Project Heart ReStart has successfully furnished 210 AEDs in the Greater Cincinnati while also delivering CPR training to over 4200 individuals. The program actively supports the strategic placement of AEDs in locations that experience substantial foot traffic, encompassing establishments with a considerable number of employees, volunteers, and/or visitors.
How Can You Be a Part of the Change in Cincinnati
Luckily, CPR training isn't meant for medical professionals only. Practically everyone can learn how to keep an SCA victim alive until help arrives. No matter how old you are, the line of work you're in, or your educational background, you can enroll in a CPR course in Cincinnati.
CPR classes are meticulously outlined to bestow precious knowledge to participants and equip them with the right skills to save a life when most needed. By attending these classes, individuals acquire the ability to provide immediate assistance and support to those in need.
CPR classes are available in different formats to accommodate diverse preferences and circumstances. Participants can opt for online learning, in-person sessions, or a blended approach that combines both.
Regardless of the chosen format, all participants can rest assured that they will receive comprehensive training in the most up-to-date life-saving techniques. These classes are structured to ensure that every individual, irrespective of their prior experience or background, gains proficiency in responding to emergencies and becomes well-prepared to handle critical situations.
You Can Take CPR Classes in Cincinnati Online
Acquiring CPR skills through online, self-paced courses to enhance your comprehension of responding to cardiac or breathing emergencies is possible. Completion of the course is contingent upon attaining a passing grade of 80% or higher on a comprehensive learning assessment. It is important to note, however, that opting for an online CPR course may preclude the opportunity to practice your skills under the guidance of a certified instructor, potentially impeding eligibility for workplace safety certification.
If you want to learn how to do CPR for your own sake, then an online CPR class is probably the best pick. Online CPR classes in Cincinnati are affordable and easy to get in.
Be in the Moment and Take an In-Person CPR Course
You can sign up for an in-person CPR class in Cincinnati if you have a flexible daily schedule. These types of classes deliver practical skill lessons and provide a hands-on experience to the participant. The lectures in this course are specifically designed to address the common pain points most bystanders experience while dealing with CPR.
The classroom setting in these CPR classes in Cincinnati motivates participants to ask questions along the way and get practical advice on the best CPR practices and the latest updates about the method. Some people prefer to take this form of course over the online ones simply because they feel like they are being in the moment and soaking in all the knowledge as the instructors pass it along.
Get the Best of Both Methods with the Blended Learning Model
As you probably presume, the blended learning CPR course in Cincinnati offers the benefits of both learning methods into one comprehensive model. In blended CPR classes, learners can complete the theoretical aspects of CPR at their own pace via an online component. This is then followed by a supervised in-person session, where participants can practice and demonstrate their skills under the guidance of a certified instructor.
This blended learning approach is probably the best choice for those who appreciate the flexibility and convenience of online learning. At the same time, candidates recognize the importance of practical training to enable them to act confidently and effectively in life-saving situations.
Occupations in Cincinnati that Require a CPR Certificate
Certain Cincinnati residents, just like those of other cities in the U.S., need to possess a CPR certificate in order to work in particular fields. For instance, even if you are not part of the healthcare industry, you must still be certified in cardiopulmonary resuscitation to work as a firefighter.
Besides nurses, dentists, and doctors, some of the other occupations in Cincinnati that require CPR certification include the following:
Pilots and flight attendants
Construction workers, etc.
The Importance of the Good Samaritan Law in Cincinnati
When administering CPR to a stranger in Cincinnati, as a bystander, you are protected under the Ohio Good Samaritan Law. This legal formulation protects ordinary rescuers from legal liability while helping a person in distress. This includes resuscitating an SCA victim.
The law defines helping a person in need as an act of good faith and is hence not subject to a legal pursuit in the event they accidentally harm the victim while trying to help them. Additionally, the Good Samaritan law's main aim is to encourage bystanders not to withhold help to persons in distress solely out of fear of consequences.
Also, the law shields those delivering emergency care outside in public places in the event of accidents or injuries, transporting victims to hospitals, helping someone in their home, etc.
Cincinnati Communities Taking Part in Lowering SCA Death Incidence
Project Heart ReStart isn't the only movement that's taking a step forward to better heart health among residents of Greater Cincinnati. In fact, the College of Medicine, as part of the University of Cincinnati, has taken the initiative to install AEDs across its Medical Science Building to make these life-saving devices more accessible to young people when most needed.
The Cincinnati Children's Hospital is also doing its part in elevating awareness of the importance of CPR by developing a special CPR learning game. Hospital officials look forward to bringing safety precautions to the youngest a bit closer so they don't feel uneasy if someone close to them suffers an SCA.
With such a strong, unifying bond among Cincinnati communities and benefactors, it's safe to say that the city is well on its way to making CPR a basic skill that almost everyone knows how to use.
Final Words on Cincinnatis's CPR Initiatives: Strengthening Cardiac Resuscitation Efforts
One thing that a pre-K teacher, a flight attendant, and a lifeguard have in common is possessing a CPR certificate. The people of Cincinnati are among the most CPR-aware residents in the U.S. With a strong sense of responsibility and preparedness, Cincinnati is taking the lead in making a great effort to explain and showcase the importance of cardiopulmonary resuscitation in decreasing the number of deaths caused by sudden cardiac arrests.
Thanks to Cincinnati communities being hands-on in spreading CPR awareness, the city's residents can easily find a CPR training center to enroll in and become certified to save someone's life. What's important about taking a CPR class is the licensing the provider holds. Look for a training provider licensed to carry out the training by one of the two most prominent licensors accrediting CPR training centers: the American Heart Association (AHA) and the Red Cross.
Once you find the learning model that works best for you (online, in-person, or blended learning), you will learn the basics of cardiopulmonary resuscitation and become knowledgeable on how to act when someone suffers a sudden cardiac arrest.