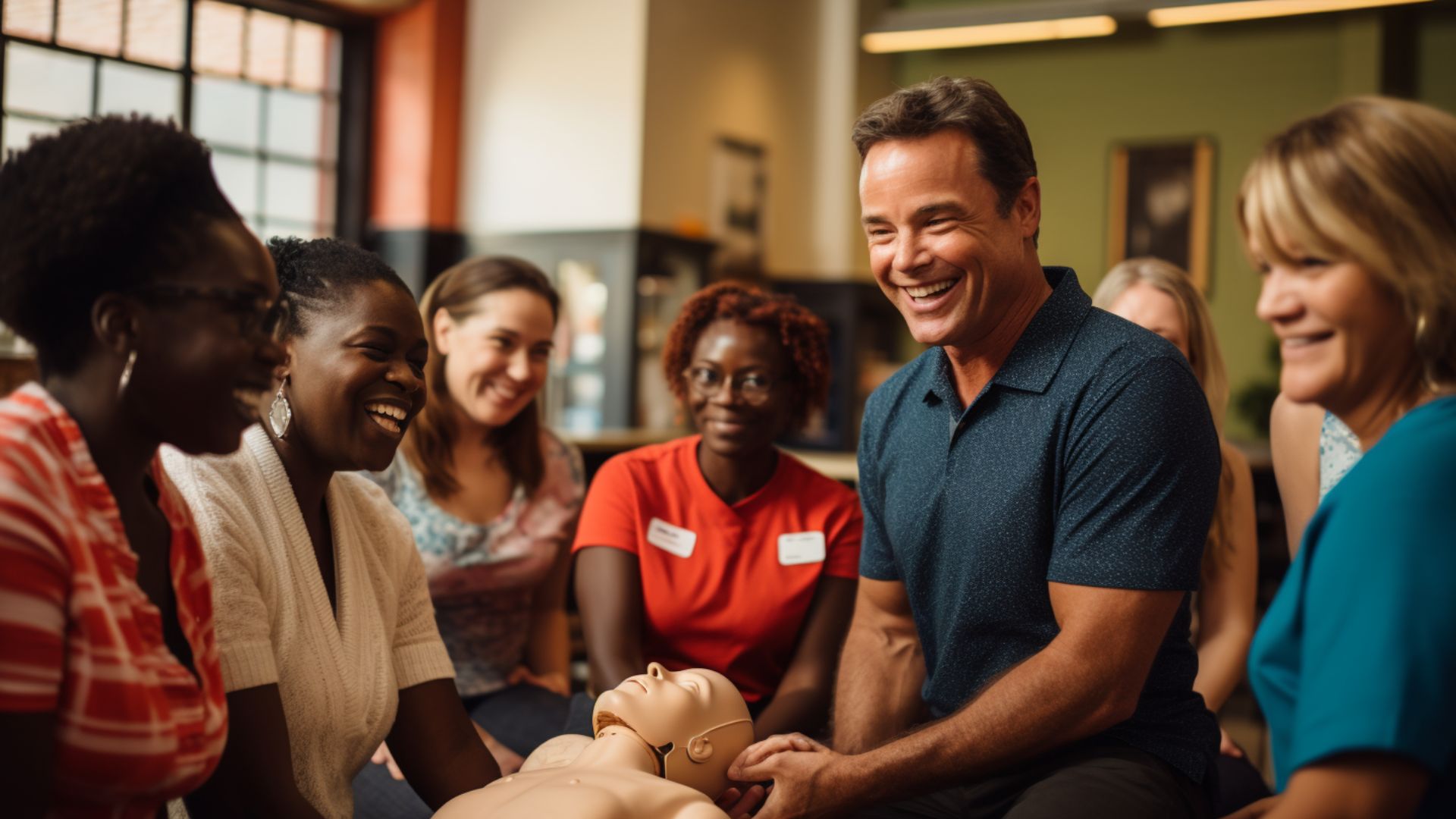 In the case of cardiac arrest, the capacity to respond promptly emerges as the paramount factor in preserving life. Therefore, the ability to administer CPR accordingly within seconds makes the difference between life and death.
In Ohio, adults reported that their physical health was not good on average measured by several key health rankings. With 15% of the people in Ohio reporting poor or fair health, CPR training is in high demand.
The need for CPR skills and training has led to the implementation of multiple programs across the city. Cincinnati's residents know the importance of CPR as a lifesaving skill that helps individuals provide immediate help when needed, which contributes to their higher engagement in such programs and training.
In this article, we will discuss the impact of CPR training, the rise of CPR awareness in Cincinnati, and community involvement, including statistics on survival rates and health impact.
Quick Facts on CPR
According to a national poll from 2019, the majority of the respondents said that they are not confident in providing assistance in case of a life-threatening medical emergency. According to Jose Torradas, an emergency physician, the most important thing is to perform chest compressions to move the oxygen in the blood to the brain.
Another study shows that the person's odds of surviving cardiac arrest will double if that person receives compressions-only CPR. The study shows the importance of hands-only CPR, which has emerged as an alternative to standard CPR, which involves both rescue breaths and chest compressions.
Finally, according to data collected by the AHA, about 436,000 individuals in the US die as a result of cardiac arrest. Americans seem to be at high risk for heart disease, with several contributing factors like diabetes, unhealthy diet, physical inactivity, and obesity.
However, the ability of individuals to provide CPR in a case of emergency has proven to be successful in saving lives and reducing the high number of cardiac arrests every year. This brings us to our main point – there's nothing more important than raising awareness for CPR training.
The Rise of CPR Awareness
The rise of CPR awareness in Cincinnati has seen a steady increase in individuals being equipped with life-saving skills. With cardiac arrest being the leading cause of death worldwide, the importance of understanding the CPR technique is vital.
First and foremost, the increase in CPR awareness is attributed to educational initiatives and campaigns across the city. These initiatives have helped in the dissemination of CPR knowledge and information in various schools, workplaces, and community organizations.
Another crucial factor that has contributed to the rise in CPR awareness is technology. Online resources and mobile apps offer better access to CPR documentation, guidelines, and tutorials, empowering people to learn more about the technique.
The Impact of CPR Training
CPR training in Cincinnati has a profound impact on communities since it not only enhances the chances of survival but also equips individuals with the required skills for providing medical assistance. Every person who is trained in CPR has the potential to save a life and act accordingly in a critical moment. Here are some statistics related to the impact of CPR in various spheres and success stories that restore faith in humanity:
Statistics on Survival Rates
Cardiac arrest requires immediate attention since it's a sudden and life-threatening condition. The importance of providing CPR training is closely related to the survival rate statistics. According to AHA, an estimated 350,000 cardiac arrest cases happen outside the hospital in the US yearly.
The association reports that immediate CPR can double or triple the survival rates of cardiac arrest victims. The survival rates in Cincinnati have been noticeably higher due to the proactive efforts to promote CPR training across the city.
Monitoring CPR Performance
Monitoring CPR performance and quality is essential for improving resuscitation outcomes. Assessing CPR performance at cardiac arrest scenes has revolutionized clinical methods and resuscitation science.
Regular data collection aided by real-time CPR parameter tracking shows insight into the ideal compression depth, pre-shock pause, and compression-ventilation rates. Such innovations allow for clearer insights into clinical performances and have become an integral part of professional rescuer training programs.
Willingness to Perform CPR
Studies have addressed the reduced willingness among individuals to respond to cardiac arrest. Individuals may refuse to perform CPR due to a number of factors, among which are personal factors, procedural issues, and (lack of) CPR knowledge.
Therefore, the city of Cincinnati has increased its efforts in bringing CPR skills closer to its citizens with the numerous mass training sessions, live workshops, and hands-only sessions.
CPR Training Initiatives in Cincinnati
The CPR training initiatives in Cincinnati include hands-only training sessions, projects like "Heart ReStart," and workshops across the city in local communities:
Hands-Only Training Sessions
"Bengals Save The Day presented by Cintas" is an event organized by the Bengals and Cintas in conjunction with the American Heart Association and Kettering Health. The event included hands-only CPR training sessions, in addition to AED education and distribution of AED kits, wellness checks, and workshops.
It's an important initiative to empower and educate hundreds of members of the community about CPR skills and highlight the importance of receiving immediate medical attention. Cintas, the largest national provider of CPR and AED training, provided 25 trainers at the event so that anyone who wants to learn the technique can get professional assistance.
Project Heart ReStart
The Heart ReStart project was started in 2006 and has since distributed 17 AEDs to nonprofit organizations across the city of Cincinnati. Nowadays, it operates under the Christ Hospital's health network as a community outreach.
The primary aim of the project was to reduce the mortality rates in Cincinnati caused by cardiac arrest. The project focused on providing CPR and AED training and raising awareness of the possibility of sudden cardiac arrest.
The project has supplied 210 AEDs and trained more than 4,200 individuals in CPR techniques, establishing a solid foundation of medical knowledge and expertise among the general public.
Community Involvement – Mass CPR Training Events
Cincinnati has embraced the concept of mass CPR training in order to bring people together to learn life-saving techniques. This way, the city continually creates a sense of purpose and unity, reinforcing the idea that anybody can save a life and be a hero in someone else's story.
Cincinnati public schools have made CPR training a mandatory part of the curriculum, allowing students to be equipped with the knowledge to save lives and provide immediate medical help.
Community centers have embraced CPR training, ensuring this essential skill reaches every corner of the city. Finally, organizations like the Red Cross in Cincinnati have been crucial in educating and training volunteers in CPR practices and techniques. This collaborative approach demonstrates the power of people united with the sole purpose of saving lives.
The Future of CPR Awareness in Cincinnati
The future of CPR awareness in the city looks promising. The rise of CPR awareness in Cincinnati is accompanied by an increasing number of individuals capable of saving lives and providing CPR assistance. The city becomes a safer place, and every person equipped with CPR skills has the potential to save a life.
Cincinnati's collective ability to respond effectively to cardiac arrest emergencies is proportional to the number of trained individuals who can provide the needed help.
The statistics on survival rates, combined with the impact of CPR training and success stories, highlight the importance of CPR awareness. Community centers, local organizations, schools, and government entities are working tirelessly to ensure CPR skills are accessible to all.
The growing awareness of CPR reflects Cincinnati's commitment to reducing the devastating impact of cardiac arrest and highlighting the importance of saving lives.