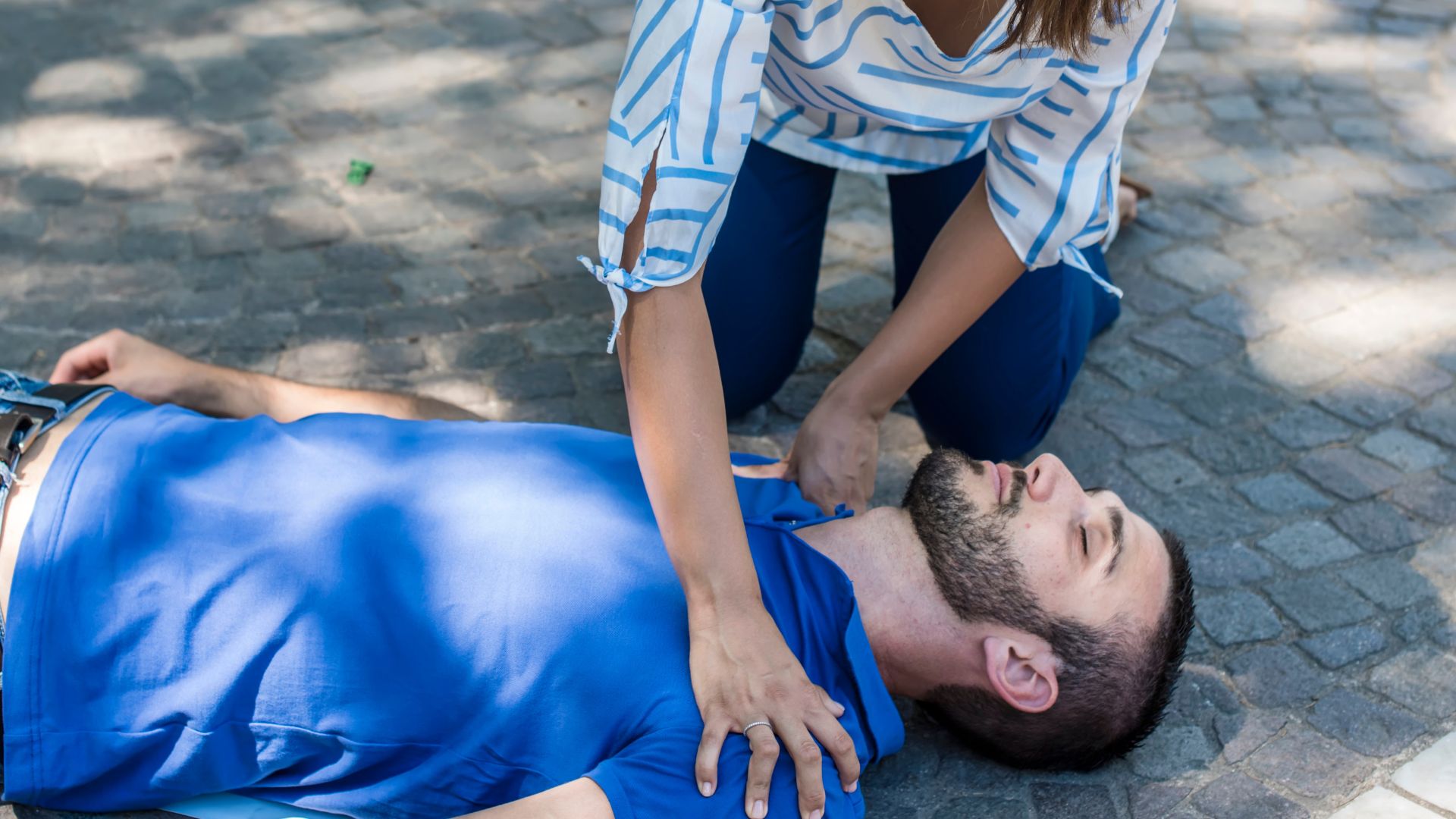 A CPR certification is a prerequisite to finding work as a babysitter. Children and babies are the most vulnerable, so a babysitter needs to be proficient in first aid and CPR in an emergency.
According to the Red Cross poll, 55% of US parents don't go out because they cannot find a suitable guardian. A good chunk of the parents even had safety concerns regarding a potential babysitter.
Besides making the babysitter more qualified for the job, a CPR certification makes the applicant trustworthy. Prospective babysitters looking for a job should consider enriching their resume with CPR classes for babysitting.
If you live in the Cincinnati region, you can find tons of online and regular courses, all bending to your needs! Read this detailed guide to learn more about how to get a CPR certification for babysitting in Cincinnati.
What Is CPR Certification for Babysitting?
A CPR certification for babysitting is a certificate a babysitter can get to be able to perform CPR effectively. The certification is granted at the end of a CPR course after the applicant passes the exam.
Although there is no national requirement for a CPR certification, it's best to acquire it so babysitters can know how to handle emergencies and accidents with children. There are different CPR certifications babysitters can get depending on the age group. For instance, infant CPR vastly differs from child CPR and employs extra steps.
Whether it's a head injury, choking, or an allergic reaction, a CPR and first-aid course will transform the babysitter into a proficient rescuer.
To get a CPR certification for babysitting, the applicant needs to take classes developed by experts in the industry. Besides proficiency in CPR, the right CPR classes for babysitters will provide both in-person and online courses, offering flexibility to anyone who wants to learn the procedure.
What Should CPR Classes for Babysitters Look Like?
The right CPR babysitting course will have the program ready-made and available online. The lessons should be fast-paced, flexible, and easy to score a certificate or get recertified. All the study materials and tests should be created by licensed healthcare providers, and the program needs to be AHA, ILCOR, ECC, or ARC-based.
A proper CPR class will also allow unlimited free practice tests and final exam retakes, as well as a free instant printable PDG certification card.
CPR Certification for Babysitting: The Basics
The CPR certification classes need to be constructed by industry-leading experts in the field of CPR. The course needs to cover a wide range of information babysitters can use for kids of varying ages.
Each CPR certification babysitting course finishes with a final exam that participants take, and if they pass, they get a printable certificate they can share with potential employers.
Here's what the applicant will learn when they take CPR certification classes for babysitters:
How to Care for Infants, Babies, Toddlers, and Children
A CPR course will give you general and detailed knowledge on how to take care of an infant and children. A CPR technique that you perform on a 4-month-old will not be applicable to a 6-year-old. The course should give detailed instructions on what to do during an allergy or asthma attack, accident, choking, head injuries, cardiac arrest, and more.
How to Act in Emergencies
Knowing how to recognize signs of an emergency will minimize risks to a child or baby. CPR training courses provide skills that allow the applicant to identify safety risks in all environments.
When you have the necessary skills, you're able to use the correct resources and time durations to prevent emergencies and dangers. CPR certification will prove that you know how to respond in dire scenarios and can provide the child with the support they need.
Gaining AED Usage Skills
Most CPR classes dedicate more than one lesson when it comes to using an AED. Although CPR seems easy, using an AED machine still requires working technology, and the skills are often forgotten. The CPR classes train responsible babysitters on the steps of properly using an AED, and they implement them after giving CPR.
Types of CPR Certification Courses for Babysitters
The CPR class candidates can take the course online or attend in-person classes. If the babysitter has the time to go to classes physically, they can find expert CPR classes at community centers, clinics, social service facilities, etc.
Institutions like the Red Cross and the American Heart Association offer online courses that the candidate can complete in a day! Each lesson contains a visual demonstration as well as exercises the student can try themselves. After the classes are finished and the candidate passes the test, they get a CPR and First Aid certificate.
But, like all classes, there are bound to be some benefits and downsides.
Some benefits of in-person classes for babysitters are:
Improved focus and better retention rate
Ability to ask questions and participate in discussions.
Some of the cons of such classes include:
Possibly long commuting hours
These classes take longer to complete.
Some pros of online classes are:
You learn from the comfort of your home
You can take the classes whenever you please
The classes can be taken faster than regular in-person courses.
Some of the cons include:
There's no physical demonstration
You cannot submit questions right away.
Where Can You Get a CPR Certification for Babysitting?
CPR certification classes are usually held by organizations in both physical and digital environments. You can locate your local CPR certification classes in community centers, schools, fire departments, clinics, and some other locations.
There is also an option for busy folk who do not have time to go through 4-8 hours of lessons. For instance, if you live in Cincinnati, Ohio, the Red Cross offers some of the highest-quality, expert-approved babysitting CPR programs in the state. The Cincinnati Red Cross offers babysitters a chance to choose from Babysitting Basics classes, CPR/AED/First Aid use, babysitter training, and advanced child training, both in-person or online. There is also another way to get a CPR certification for babysitting in Cincinnati, and that is through the American Heart Association.
The Average CPR Certification Course: Prices for Babysitters in Cincinnati
To get a CPR certification, babysitters may pay somewhere between $30 to $45, depending on the features of the CPR class.
To get a CPR certification from the Red Cross, the candidate will pay $55 for a First Aid/CPR/AED course. To attend an American Heart Association CPR certification training, the applicant needs to pay between $20 to $100, depending on the features.
If the classes focus solely on infant and child CPR, the babysitter will pay less. However, any additional learning tools, like textbooks and flashcards, add to the cost.
Why Should Babysitters Have a CPR Certification?
Having a CPR certification will put a specific babysitter above other contenders for a job. The employers will take into consideration the effort you put into doing your job as safely as possible.
A few other reasons why getting a CPR certificate will benefit the babysitter's job are:
Giving the parents peace of mind
The babysitter is the only adult in the situation
Bystander CPR can increase the chances of survival to hospital discharge
The babysitter appears more trustworthy and capable of handling emergencies
Gives a sense of security and trust.
Conclusion
Let's go over the details regarding CPR certification for babysitting in Cincinnati. According to the law, babysitters aren't required to possess a CPR certificate. However, your chances of getting employed are boosted significantly when you can prove you've had CPR and first aid training.
Babysitters can receive training in infant and child CPR. Both techniques vary to accommodate the physical differences between babies up to 1-year-old and children. Depending on the provider, the course may also include a lesson regarding the use of an AED.
To get certified in CPR, you can attend physical or online classes made available by the AHA and Red Cross. Classes cost less than $100 and sometimes as low as $20-$40.
Overall, getting CPR-certified when seeking employment as a babysitter will instill trust in your potential employer and show them you don't take the safety of their kids lightly.